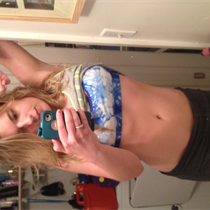 I don't have any classes, webinars or packages yet, but I am working hard to bring them to you. Please check back again soon.

I don't have any videos yet, but I am working hard to bring them to you. Please check back again soon.
<1 years Experience
---
My name is Ali Bailey, I am a 17 year old girl with the love of helping others feel good about themselves. In highschool, which i completed a few months back, I homeschooled as I recieved a great education. In my attendence, I was able to complete my junior and senior year in only a short, four months as school means alot to me. Not only school is an importance in my life, but also training. My father was placed 1st place Mr. Pennsylvania back in the 1980s and was crowned 3rd place Mr. America as he had a passion for bodybuilding. As a young child, I picked up on his good habits as he would eat right and do alot of cardio. Eventually, it became too much on my father for competition as i also have a younger sibling, but for me, it became my passion. I workout about 3-4 hours a day (Zumba included) I attend a very great studio and love to see everyones faces everyday. I do weight training at the gym and i also do a lot of cardio. About a month or two ago, I decided I wanted to become a Zumba instructor as I wanted to pass down my knowledge to others, along with make people laugh as I tend to get into the workout. Singing along, and dancing, is something I love as I also have many other talents. I am a magician, who loves to perform for people and I also have been on stages around the state of CT as I have worked with big name people, (Monster Jam, WWE) Music is also a big part of my life, hence, being a Zumba I love all types. I play the guitar and sing just out of the 11 instruments I can play. Acting is also something I enjoy as well!
Invite Friends!

Student Reviews
(0 Reviews)