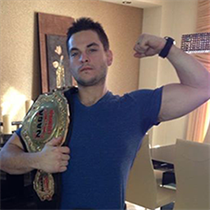 Michael Friedman
Boot Camp Instructor , General Fitness Instructor , Kickboxing Instructor , Yoga Instructor
---

I don't have any classes, webinars or packages yet, but I am working hard to bring them to you. Please check back again soon.

I don't have any videos yet, but I am working hard to bring them to you. Please check back again soon.
5-6 years Experience
---
Fitness expert and core training specialist strongly motivated by proper nutrition and exercise. I specialize in weight loss, functional training, sports specific plyometrics, cardiovascular/endurance training, and dynamic core training. I am a certified personal trainer by NASM and ISSA and also hold CPR / AED certifications.. I have over 10 years of personal training experience and truly love what I do. I demand excellence and perfection yielding the best results. Motivation is my specialty so come ready to sweat and work to your maximum capability. Let's get to work now and I will show you huge results
Invite Friends!

Student Reviews
(3 Reviews)
Michael pushes you to do your best...
...and keeps you there throughout the workout. His Military Style Bootcamp class is no joke! He alternates between plyometric, cardio, and strength exercises to provide a true full-body workout experience. The minute-long breaks between each circuit are a much-needed recovery, no matter what your fitness level is. I sometimes have lower back and ankle problems, and Michael is really good about providing low impact but effective modifications for that. If you want results, train with Michael!
Love it
Love the convenience. Loved that I was able to hook up by myself. I am tech challenged! I'm amazed at how convenient this is to have a personal trainer right in my home. Really loved it!
Super
I had a really good first workout with Michael. He was able to design a routine that works with my physical limitations. He was very encouraging, engaging, and observant of my form and fatigue level throughout the session.