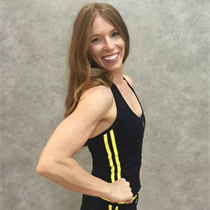 Beth Hoover
General Fitness Instructor
---

I don't have any videos yet, but I am working hard to bring them to you. Please check back again soon.
11+ years Experience
---
Helping you live a healthy life & lose weight in a busy, fast-paced world. I will bring passion and enthusiam that will "get you motivated to get moving" when you join one of my LIVE Streaming Classes!
I am passionate about helping you reach your goals, stay injury free and be in the best shape ever.
With over 15 years of experience in the fitness and wellness industry, I am confident that you will be inspired to improve your health & wellness and most importantly, get results.
Activity has always been a part of my life and it can be for you too! Since the age of 5, I have been moving with dance, ballet, tap and toe dance, gymnastics and baton twriling. I later realized the benefits of a structured exercise program after gaining weight in college. I now specialize in Core and Functional Training as well as several HIT formats; Tabata and BODYSHRED. As an ambassor for #moveitmonday I encourage people of all fitness levels to get moving each week starting with Mondays.
I hold a BS degree, Wellness Coaching Certification and a variety of Personal Trainer and Group Fitness Certifications such as NASM, AFAA, Jillian Michaels BODYSHRED and SCW Fitness. As an instructor for World Instructor Training Schools WITS ED, I educate and certify aspiring fitness trainers while also providing continuing education programs. Starring in over 60 online exericse videos, I am passionate about teaching you proper form and technique.
My classes provide a well rounded exercise program and total body experience. So get ready to build lean muscle, increase your cardiovascular fitness, burn fat, improve your flexiblity and balance and of course, chisel your core.
Whether you are looking to begin an exercise program, lose weight or just improve your quality of life. I am help to help you be the best version of YOU!
Contact me...let's get moving!
Visit my website for more info
Invite Friends!

Student Reviews
(0 Reviews)