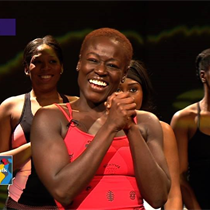 Cassandra Nuamah
Wellness Coach , Aerobics Instructor , General Fitness Instructor
---

I don't have any videos yet, but I am working hard to bring them to you. Please check back again soon.
9-10 years Experience
---
Cassandra Nuamah is a choreographer, certified personal trainer wellness coach. She is also a Master Trainer for Kukuwa®African Dance Workout created by her mother Kukuwa Nuamah
( kukuwadanceworkout.com). Kukuwa® African Dance Workout essentially allows you to travel the continent of Africa through dance and music without your passport.
In 2003,her mother Kukuwa launched her Instructor Training Certification Program which trains all instructors world-wide to teach the trademark patented style of Kukuwa® African Dance Workout. To date, she has trained over 200 instructors in the USA, Europe, Asia, and Africa.
She was born and raised in Washington, DC. However, her family hails from Ghana, West Africa. She has been dancing since the age of three and teaching Kukuwa® for over 10 years. A graduate of the University of Virginia and the Institute of Integrative Nutrition, Cassandra uses her extensive knowlegde of nutrition, exercise and holistic healing to help clients discover their best selves. Cassandra and her mother Kukuwa, counsel clients through nutrition and exercise to achieve and exceed their fitness and wellness goals. They also take groups to different countries in Africa every year on wellness and cultural excursions.
Cassandra assists her mother with expanding Kukuwa® African Dance Workout all over the world to enhance fitness levels and wellness through dance and health education.
Visit my website for more info
Invite Friends!
Cassandra Nuamah Tweets

Student Reviews
(0 Reviews)