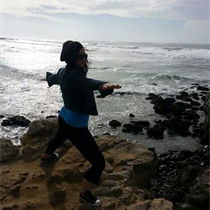 JENNIFER SPESIA
meditation , Pilates Instructor , Yoga Instructor
---

I don't have any classes, webinars or packages yet, but I am working hard to bring them to you. Please check back again soon.

I don't have any videos yet, but I am working hard to bring them to you. Please check back again soon.
11+ years Experience
---
I love yoga and meditation and both have been an integral part of my personal daily practice for over a decade. As a teacher, my classes vary but my training was in classical yoga, so I feel very connected with Hatha, Yin, Kundalini, Ashtanga, and Iyengar yoga. Proper alignment and injury prevention are at the forefront in my classes, as are breathing (8 kriyas, etc.), mindfulness, and connecting with your practice. I want people to love yoga and experience both the inner and outer benefits of this beautiful ancient practice.
My personal meditation practice is generally a shamatha-vipasana sitting practice, outdoors as often as possible, with a healthy dose of yoga nidra, visualization, and guided meditation as well. I love what meditation has done for me and it brings me great joy to share meditation and yoga with others.
In addition to my training as a yoga and meditation instructor, I completed two years of MA level work in Buddhist-based Psychotherapy at Naropa University in Boulder, CO and have completed all of my coursework toward a PhD in Psychology (East West Psychology) and am now working on my doctoral dissertation research, with anticipated completion this year. I have been teaching yoga and meditation in Colorado and California and recently relocated to Chicago where I am building my own holistic mind-body wellness practice and teaching yoga.
Holistic mind-body wellness is my long-term career focus and this includes working with individuals, groups, families, and businesses to achieve wellness and balance through yoga, meditation, nutrition, healthy communication, counseling, detoxification practices, essential oils, and other complementary/traditional or Eastern practices.
Invite Friends!

Student Reviews
(0 Reviews)