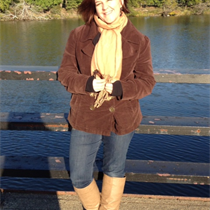 I don't have any videos yet, but I am working hard to bring them to you. Please check back again soon.
5-6 years Experience
---
In 2007 Alycia took up rock climbing at Devils Lake, WI. It was fun weekend thing to do with her 3 crazy sisters and super fun cousin. "None of us were really in shape, or had any clue as to what we were doing." She had a ball and started going up every weekend from Chicago to meet her family and even signed up for an 8 week climbing class at a local gym. She started to look for other ways to get fit and strong to continue her climbing adventures. She found Bikram yoga and fell in love with the heat and the benefits it offered. She went to her first Corepower Yoga in January 2009 and signed up for the 200 hour teacher training in Hot Power Fusion after just two classes. "Teacher training became a way for me to connect my yoga practice with my climbing practice. Yoga changed my life by changing my perspective, and I wanted to share that with others". Alycia has the ability to find tranquility in the chaos of a busy life. In 2012, Alycia completed both Sculpt Teacher Training and her 200 hour Power Teacher Training. The same year, Alycia walked away from a twenty year career in finance to focus on teaching full time. Her formal education includes interior design and photography. As a photographer she views life through the lens and takes it into her own experience. As a yoga instructor, she incorporates the idea of oneness, compassion, and a little bit of humor to her teaching. Alycia is a lead in her yoga community, having taught over 2000 yoga classes, leading teacher trainings, bootcamps, mentoring new teachers, and led a children's yoga program for 4 years.
Invite Friends!

Student Reviews
(0 Reviews)